Have Dating Apps Killed Modern Romance?

Publication Design
Illustration by

Stephanie Moreno
The Challenge
This is a visual analysis of the Intelligence Squared debate: "Swipe Left Or Right: Have Dating Apps Killed Modern Romance?" which presents two sides of the argument questioning if dating apps are really meant to promote long-lasting romance.
The Solution
We created an interactive experience combining a printed zine format with a tarot card reading adaptation, in which the reader is being guided through a tarot reading while being presented both sides of the debate's argument. Ultimately, they decide for themselves, have dating apps killed modern romance?
The Unknown Future
Using the tarot card vernacular, we wanted to emphasize the unpredictable nature of dating apps. Many people use these apps to find a future love interest just as many people participate in tarot card readings to find insight into their future. In both cases, the outcome you seek is not guaranteed and you may find yourself disappointed with an unwanted result with either your first date or your card reading.
The visuals used throughout the zine, from illustrations, typography, to layout, draw inspiration from tarot card drawings and 19th century circus signs, adapting them into the dating apps motif.
The Reading
The zine guides the readers to immerse themselves into this experience, with prompts and instructions on what to consider or do next.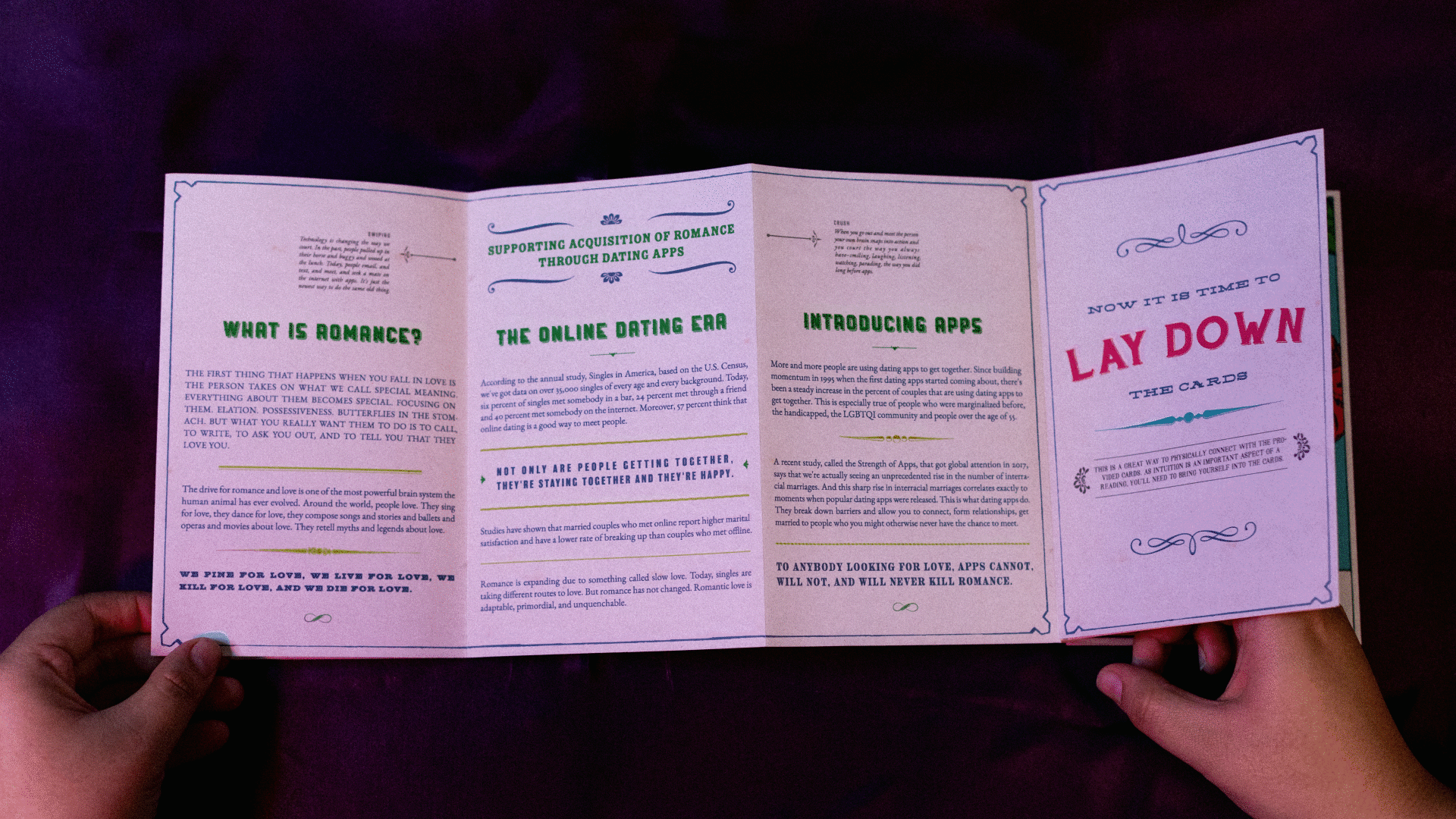 A Mystical Interactive Experience

Taking the interaction experience a step further, the zine has a section with perforated cards with instructions on how to lay, shuffle, and choose 3 cards to proceed with the reading.
Identify the tarot cards & listen to your intuition
Lay the cards facing down and shuffle them
Separate the cards using the perforation lines
Choose 3 cards and flip them right side up
The Reading Interpration

The card interpretation guide provides insight into each of the cards, with information that's intended to provoke a deeper consideration about online dating. Lastly, the reader gets to respond for themselves the argument in question: have dating apps killed modern romance?
Gain insight into the past, present or future by formulating a question, then drawing and interpreting cards.

Tarot Card Reading Definition
Dating apps logos used in the pattern of the back of the cards